Residential Propane in Southwest Ohio
PROPANE SERVICES
Residential Propane Intro
We're more than just a name on a list when you Google "Propane Near Me." We're a locally owned and operated third generation company of folks who live where you live, cheer for the teams you cheer for, and strives to have a positive impact on our communities.
Our dedicated service, delivery, and office staff are here to take care of your home propane needs so you can focus on what's important – each other! If you live in a propane powered home, are moving to a house that already has propane, or are switching to propane in the Cincinnati, Dayton, or surrounding Miami Valley region, Collett Propane is your hometown company you can count on.
MOVING TO A HOME WITH A COLLETT TANK?
How Can Propane Benefit Your Home?
When you combine the advantages of propane appliances with our hassle-free automatic fill delivery program, your family can enjoy the superior benefits of American-made propane!
Furnaces
Propane furnaces provide warmer air and reduce greenhouse gas emissions by 22 percent when compared with electric heat pumps, particularly in areas where electricity is produced by coal-fired power plants.

Hot Water Heaters
Because propane packs a bigger BTU punch per dollar than electricity, propane water heaters heat double the amount of water per hour compared to electric water heaters.
Cooking Appliances
Propane cooking appliances respond more or less instantly as the flames spread around the bottom of a pan, and knobs that change the size of the flames give you more of the precise control needed to be successful with certain dishes.
Fireplaces
Gas fireplaces generate heat with natural flame, while electric fireplaces engage a heating element (much like a space heater) while creating the illusion of flames.
Generators
Propane generators are there when you need them – when there is no power! Also, Propane doesn't have an expiration date and does not require additional stabilizers for long-term storage, so there's no need to winterize your propane-powered generator for cold weather. You can be confident your generator will be ready when you need it.
WHY CHOOSE AUTOMATIC FILL
New Customer Sign Up & Installation Process
We keep the sign up and install process easy. If you are new to propane or switching from another energy source to propane, our sign up & installation process typically follows the following standardized process
Start out by giving our office a call and we'll schedule one of our service professionals to come by your home or business to go your project, free of charge. We'll take a look and answer any questions you may have, and we'll go over the specifics of the installation process. If necessary, they will also discuss with you any local regulatory requirements. It may be a good idea during the site check to have your contractor present, if you were to have one.
Fill out our easy and secure new customer package online or in one of our three convenient locations. During this step, we'll get some basic information such as name, address, appliances on propane, and credit information (if applicable.) Once the paperwork is submitted online or filled out in one of our stores, a customer service representative will contact you to go over buying options, tank size, ownership status, and to answer any questions you may have. Once the new customer package is completed, we'll take payment for installation and first fill and get you on the installation schedule.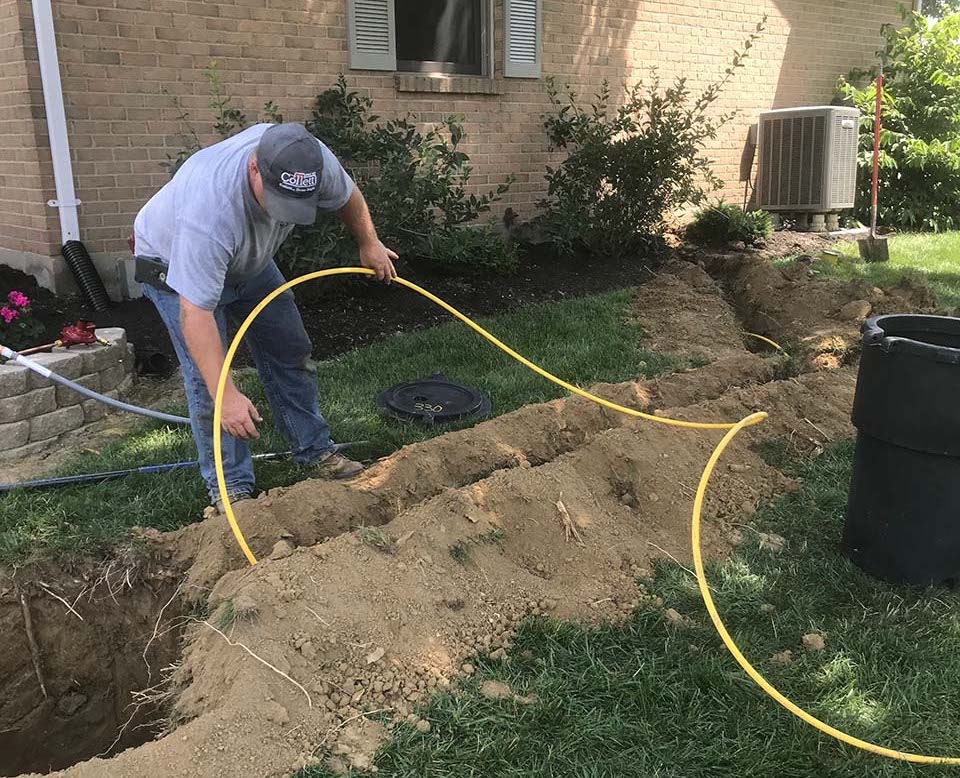 On your day of installation, you will be given a time window for when your service team will arrive to get you set up. We ask that you be present for the installation. This is a great opportunity to see how your tank is installed, learn the safety features of your system, and ask any questions! Your tank will arrive at your home with only a few gallons, per transportation laws. Your dedicated driver will be at your home within a day or two to initially fill your tank.
We don't just install your propane equipment and walk away. We believe in creating lasting and enduring relationships through superior service and honest pricing. If you ever have a question, please do not hesitate to call us. Over the last 70 years, we've been taking care of our friends and neighbors in Miami Valley.
Own Your Own Tank?
If you own your own tank and are shopping around, you're doing the right thing for you and your family. Collett makes the process easy and simple to become a customer if you own your own tank:
Sign Up
If you have not had a propane delivery by us, we'll have you fill out our easy online paperwork or stop by one of our three convenient locations to complete your new customer package. During this step, you'll pay for your first fill and gas check fee. We'll then schedule that gas check and get you on the calendar for your first fill.
Gas Check & First Delivery
We require a gas check if you have not had a propane delivery from us before or if it has been a couple of heating seasons since you have received your last delivery from us. The reason for this is to make sure there are no leaks, issues with your tank or regulators, and your propane system is working as intended. Our number one goal is to keep you and your family safe! After your gas check from one of our qualified service team members is complete, you will get your tank filled within a day or two.
Let's Stay Friends
If you own your own tank then you know the level of service from company to company can differ. We strive to be service first, regardless of whether we own the tank or if you own the tank. That's why we offer all our buying programs to you to help you get propane when you need it and to help you save money. Learn more about our buying programs, including automatic fill, here!
Changing From Your Old Provider to Us
If you already have a propane provider and are ready to switch to Collett, the process isn't as hard as you might think. We'll start out by doing a site check to make sure the existing set-up is within local codes (if applicable) and to answer your questions on site. Then we'll have you sign up in one of our stores or online, take payment for the installation, and get you on our installation schedule.
Once you are scheduled for installation, this is a good time to call your soon to be old provider and tell them they need to come pick up their tank. Make sure this date is after our installation date. On your day of installation with us, we'll bring your tank and a new set of regulators, and get you set up. We'll unhook your old providers tank and equipment, set it aside for them to come pick up on the date you schedule with them, and get your new tank and equipment up and running. You'll have no interruption in your service.
UNDERGROUND TANK VS. ABOVEGROUND TANK
Rebates
Are you replacing your old heat pump or worn our propane furnace or water heater with a new unit? Good news! You may be eligible for rebates through the Ohio Propane Council. Click the link to apply: